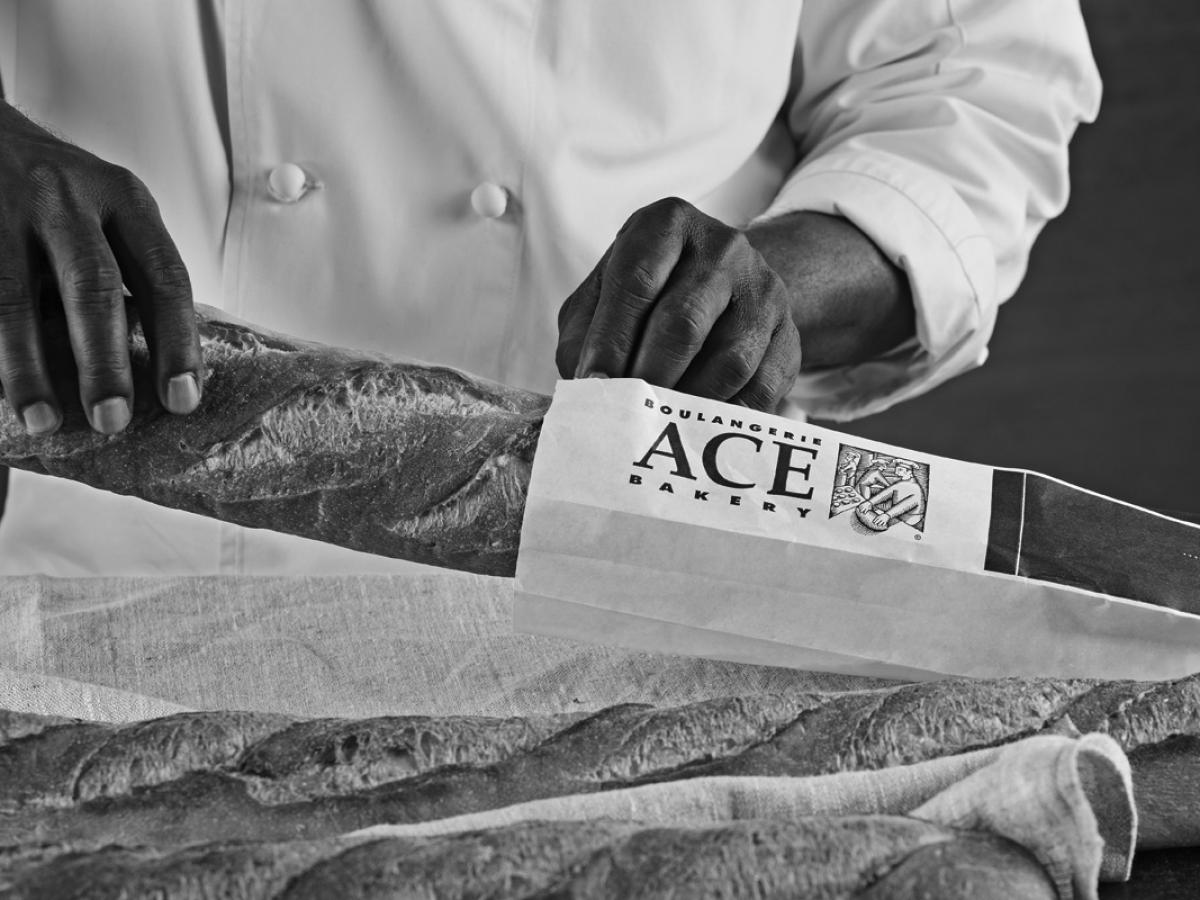 6 Ways to get more out of your ACE® Bakery Baguette
QUICK TIPS AND TRICKS TO MAKE USE OF A HARD BAGUETTE

There's nothing like the taste of a fresh warm ACE Bakery® baguette. However, it's not always possible to enjoy the entire baguette before it goes stale. The classic long and narrow shape of a baguette may lead to it going stale after the first day. Fortunately, we have some tips and tricks to help you enjoy your ACE Bakery® bread even after the first day! 
MAXIMIZE THAT FRESH ACE BAKERY® EXPERIENCE AND REVIVE THAT SECOND-DAY HARD BREAD

Why do baguettes go hard after the first day? ACE Bakery® bread stays fresh for one day because there are no preservatives or dough conditioners in any ACE® products. However, with this tip, one-day freshness can be a thing of the past! All you will need is cold water to add moisture to your bread and a hot oven to create steam to re-crisp your baguette's crust. 
Here is how you revive your bread so that you can use it the day after bringing it home from the bakery! 
1. Run the bread under cold water until the crust is completely wet. Be liberal with the amount of water you use – put the tap on full force. Using an already cut baguette? The cut side will inevitably get wet but you want to try to concentrate the water stream on the crust.
2. Place the wet baguette directly into a preheated 350 °F oven. 
3. Bake for approximately 5 – 10 minutes or until the crust is crisp.
4. Remove and enjoy immediately. 
Voila! Your ACE® baguette is back to life.
WORRIED ABOUT NOT USING ALL OF YOUR BREAD THE FIRST DAY? GO AHEAD AND FREEZE IT!
If you know that you won't be eating your entire baguette on the day you purchase it, keep your ACE Bakery® baguette tasting fresh by freezing it! The beauty of ACE® bread is that not only does it freeze very well, it can also be frozen for up to one month. You don't want to just throw your breadstick into the freezer though. It is important that you correctly prep and store your bread before putting it in the freezer. 
Check out the steps below to learn how to properly store and freeze your ACE Bakery® bread.
1. Wrap your ACE Bakery® bread in plastic wrap. You may need to cut your baguette in half before wrapping it. 
2. Place your wrapped bread into a clear freezer-safe sealable bag. Tip: Don't forget to write the date when you are placing your bread into the freezer. This will help you remember when to remove the baguette from the freezer. 
3. Store in the freezer for up to 1 month.
4. To reheat, remove the bread from the bag and while still frozen, place in a 400°F oven for 6 – 8  minutes or until heated throughout. 
5. Cut and serve immediately and enjoy! 
TURN YOUR HARD BAGUETTE INTO HOMEMADE CROUTONS!
Do not throw away your leftover ACE Bakery® baguette so fast! Here's another way to make use of your second-day bread – turn it into homemade croutons. 
1. Using a serrated knife, cut your ACE Bakery® baguette into bite-sized cubes. 
2. Drizzle with olive oil and sprinkle with salt, pepper, minced garlic, and parmesan cheese. 
3. Toast in a 250°F oven for 3 -5 minutes and remove! 
4 WAYS TO USE CROUTONS OTHER THAN IN SALADS
Although croutons are usually considered salad toppers, they can be used in so many different ways! 
• You don't need a side of toast with your morning eggs anymore. Mix your croutons into scrambled eggs! 
• Swap out your stuffing bread with croutons next time you make stuffing. 
• Garnish your favourite bowl of soup and give it some texture.
• Try making your own homemade French Onion Soup and use your DIY croutons as a replacement for the traditional toast topping in French onion soup. Check out our ACE® French Onion Soup recipe here! 
DIY ACE BAKERY® BREADCRUMBS
Why spend money on store-bought breadcrumbs when you can make your own! 
1. To make your own, cut your second day ACE Bakery® baguette into bite-sized cubes. 
2. Pulse in a food processor until the crumbs are coarse. 
3. Place your breadcrumbs into a large skillet, drizzle with olive oil, season with salt and toast over medium-high heat, tossing frequently. 
4. Your crumbs should take about 5 minutes or continue until they are crunchy and golden brown. 
You can store your ACE Bakery® baguette breadcrumbs in an airtight jar or use them that day – it's up to you. With your DIY ACE Bakery® breadcrumbs, you can elevate any dish – not just your meatloaf. 
4 UNIQUE WAYS TO USE BREADCRUMBS
• Add some crunchy texture to your pasta dish
• Use them as a thickener for your soup 
• Add them into your homemade meatballs
• Crisp up your roasted chicken 
TURN THAT STALE BREAD INTO BREAD PUDDING

Give new life to your hard-as-a-rock loaf and turn it into bread pudding, which doesn't only have to be for dessert. It can make a delicious and hearty dinner as well. This easy to make, savoury Chicken and Mushroom Bread Pudding recipe makes for the perfect family-pleasing Sunday dinner. 
ACE Bakery® Chicken and Mushroom Bread Pudding 
Prep Time: 20 minutes
Total Time: 1 hour 20 minutes
Yield: 8 servings
Ingredients
• 1 ACE Bakery® baguette, cubed (about 8 cups/ 1L)
• 1/4 cup (60 mL) butter
• 12 oz (350 g) mushrooms, sliced
• 1 onion, chopped
• 2 cloves garlic, minced
• 4 tsp (20 mL) chopped fresh thyme
• 1 lb (500 g) cooked boneless skinless chicken breast, sliced
• 8 eggs
• 3 cups (750 mL) milk
• 1/4 cup (60 mL) chopped fresh parsley, divided
• 2 tsp (10 mL) Dijon mustard
• 1/2 tsp (2 mL) salt
• 1/4 tsp (1 mL) pepper
• 1 1/2 cups (375 mL) shredded gruyère cheese
Directions
1. Preheat oven to 375°F (190°C) and grease a 13- x 9-inch (3.5 L) baking dish.
2. Chop your baguette into cubes and place in a large bowl; set aside. 
3. Melt butter in a large skillet over medium heat; sauté mushrooms, onion, garlic, and thyme for about 10 minutes or until vegetables are softened and moisture has evaporated. Stir in the chicken. Once finished, add your mixture into the bowl of baguette cubes. 
4. In a separate mixing bowl, whisk together eggs, milk, half of the parsley, mustard, salt, and pepper; stir into bread mixture. Once mixed, transfer bread mixture into to prepared baking dish. Sprinkle cheese evenly over top.
5. Bake for about 1 hour or until puffed and golden, and custard is set. Sprinkle with remaining parsley; let stand for 10 minutes. 
6. Serve and enjoy! 
Tip: Mixture can be covered and refrigerated for up to 24 hours before baking.
Turn your ACE Bakery® Bread into Crostinis  
Making your own crostini is easy, versatile, and delicious with an ACE® baguette. Better yet, you can even freeze them so that you can use them later. You can pretty much top your homemade ACE Bakery® crostini with anything sweet, savory, or spicy. Try out this ACE Bakery® Toasted Brussel Sprout Crostini recipe for inspiration! 
® Weston Foods (Canada) Inc. © 2020