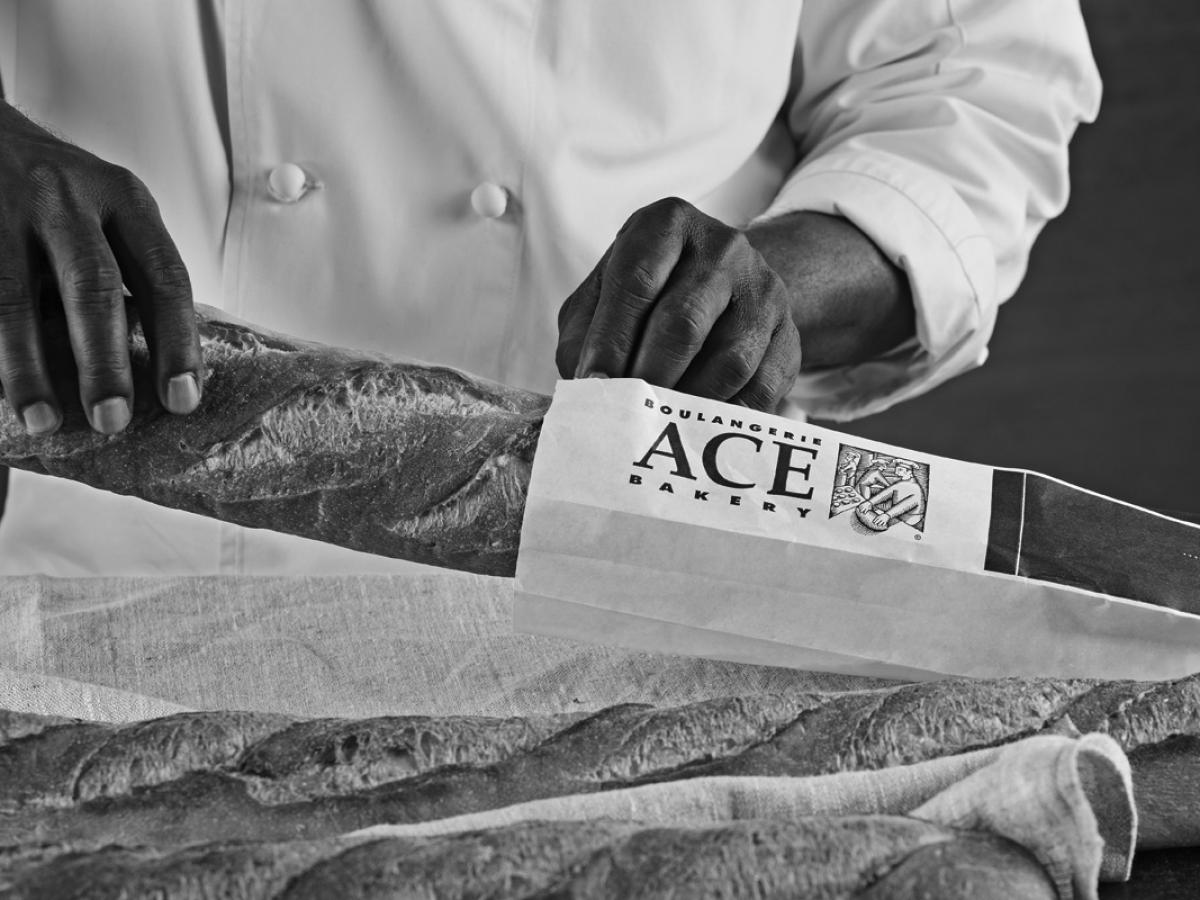 Baguettes, Brioche, Bagels –Oh My! 4 Ways to ACE® Holiday Hosting
Must Try Food Trends To Share with Family and Friends this Season
Whether it's an intimate dinner for two or a large festive gathering with extended family, holiday entertaining can sometimes feel more like a burden than a blessing. But it doesn't have to! With a bit of thoughtful preparation and some helpful hints, you'll be able to entertain with ease. Here are some helps and hacks—based on some of this year's hottest food trends—to help make every host's holidays truly happy.
1. FEEL-GOOD FOOD
It seems impossible to scroll through social media without being inundated with photos of home-baked loaves of banana bread, sourdough, and chocolate chip cookies. Feel-good, nostalgic foods have made a serious comeback, and it's not surprising, given the amount of uncertainty we've been facing.
For many of us, familiar foods bring back safe, happy childhood memories, along with a sense of comfort and solace. So this year, ditch the china and candlelight, and opt for a casual tabletop with classic, hearty recipes that bring some serious warmth and joy to the season.
Get the festivities off to a smooth start by welcoming your guests with warm cider or a fun cocktail (or mocktail!), so they can grab a glass and get mingling. For an appetizer, opt for a wintery soup, like butternut squash or lentil, served in individual glasses or mason jars. And be sure to serve with a piece of crusty ACE Bakery® baguette, perfect for dipping.
For the main course, go for a hearty beef or vegetable stew alongside a pile of buttery mashed potatoes and a bright, fresh vegetable like peas. And keep it simple with an unfussy family-style dessert, like a rustic tart or fruit crisp. For something truly inspired by the season, impress your guests with our festive Steamed Apple Cranberry Pudding, which can be made ahead and reheated.
How to Bring Some Tradition to the Table
Forget spending a fortune on décor like wreaths and garlands: A handful of natural accents (think pinecones, rosemary sprigs or pomegranates), along with simple string lights, can go a long way toward adding warmth and charm.
Enhance the festive mood by streaming a playlist of classic holiday tunes. Select it ahead of time, so you can simply set it and forget it.
Add a bit of fun and cheer with an old-school game of charades or "spin the dreidel"—perfect for guests of all ages.
Consider making it potluck. Encourage your guests to bring a favourite or sentimental dish, and share stories before you dig in.
2. GET ON BOARD
Though they date back to the 15th century, charcuterie boards are back in a big way in 2021, dominating social media feeds across the globe1. Not only are they Instagram-worthy, but charcuterie boards are super flexible – the ultimate culinary choose-your-own-adventure story!
You can adjust the ingredients to suit different preferences and dietary needs, and satisfy even the pickiest of eaters. You can also scale the portions up or down based on the number of guests, and make them as affordable (or high-end) as you'd like.
Whether you're serving a crowd or making an individual board to enjoy on your own, the key to creating a winning charcuterie board is in selecting the right balance of cured meats cheeses, olives, fruits, nuts, spreads and crisps.
First, you'll need to choose a board, tray or platter as your foundation. Wood and marble are our go-to choices, given their beauty and sturdiness. Start by adding structure with small bowls filled with olives and dips, such as mustard or honey, and spreads, like this delicious Maple Butternut Squash Hummus.
Next, pile the largest elements, typically the meats and cheeses, on the board, followed by smaller items like fruits. Then, slip stacks of crackers or breads among the bowls, meats, cheeses and fruits.
Go for a variety, to compliment the flavours on the board, such as ACE Bakery® Artisan Toasts in cranberry and superseed or date & almond, and elegant baguette crisps, available in five flavours.
Finally, fill in any gaps and sprinkle in some personality with a mix of garnishes that range in colours, flavours and textures, like dried fruits, vegetables, or sprigs of herbs.
Must Have Tips for a Winning Charcuterie Board
Consider tying the board to a theme, like a colour, a region or a season.
Add tiny label tags beside each component— they can be both elegant and helpful.
Keep a small selection of "refill" items, like sliced meats and cheeses, in the refrigerator so they're ready to go when the board needs restocking.
You can prepare most of the board, including the meats and cheeses, up to 24 hours before the event, as long as it's kept wrapped and refrigerated. Simply add your crackers before serving and you're ready to go!
3. OPT FOR ALL-APPS
There's no rule that says your holiday gathering has to be a full meal. Keep things simple (and give the often-best part of the meal the spotlight it deserves!) by hosting an all-appetizer extravaganza. In fact, during these times, some guests may be more comfortable with this approach, which provides individual portions, no sharing required!
From sausage and spring rolls to mini quiches and meatballs, finger foods are always a crowd pleaser. And they don't have to be fussy.
Whether you create them from scratch or buy them from frozen (there's no shame!), make sure you have an assortment of tastes, and the right quantities to suit your crowd. For a meal-time gathering, prepare six to eight types of hors d'oeuvres and plan on each guest eating two or three of each.
Of course ACE Bakery® has you covered, with a ton of great appetizer recipes to choose from. Our Brie and Balsamic Blueberry Toasts are as pretty as they are delicious, and our rich French Onion Soup Bites can be fully assembled earlier in the day until ready to bake. Or try the show-stopping but easy Ace Bakery® Rosemary Focaccia Pull Apart with Baked Haloumi and Spiced Honey, featuring just five simple ingredients. Check out some more delicious appetizer ideas here.
Appetizer Dos and Don'ts When Prepping This Season
Inquire about dietary restrictions in advance, to ensure you've got vegetarian and gluten-free guests covered.
Go for a mix of hot and cold foods, which can help keep everyone nibbling, as cold appetizers can be circulated while other treats are heating in the oven.
Almost any dish can be made over into an appetizer: Bake your famous mac and cheese in small ramekins, serve soup in shot glasses, or make mini burgers topped with ACE Bakery® gourmet burger buns.
4. GO FOR BRUNCH
Want to shake things up? Why not trade in your traditional turkey dinner for a new tradition: a holiday brunch. What better way to start the day than surrounded by your favourite people, leisurely eating delicious sweet and savory dishes— and drinking a mimosa (or two!)? Plus, it frees up the rest of your day for more holiday fun.
Throwing a brunch can be a lot easier, less daunting and save time compared to a traditional dinner party-plus it doesn't have to mean waking up at dawn. Plan a menu you can prepare ahead of time, with a few last-minute touches. Breakfast casseroles and egg bakes, like this Rosemary Focaccia Strata with Cheddar and Bacon, can be prepped or baked the night before.
Prepare and freeze muffins ahead, and serve an assortment of ready-to-serve pastries, including ACE Bakery's® rich, flaky artisan-style Biscuits, which come in three heavenly flavours.
Welcome guests with the inviting smells of warming ACE Bakery® Bake Your Own Butter Croissants, which are tender and buttery, and need as little as 5 minutes in the oven..
For an extra special touch, create self-serve stations so your guests can help themselves. Set up a "Bread Bar" by making a delectable platter of ACE Bakery® sliced loaves, bagels and brioche along with an assortment of jams, jellies, butters and spreads. And add a "Granola Bar," with yogurt, fresh diced fruits, and a big bowl of ACE® Artisanal Granola—loaded with crunchy toasted thick rolled oats, whole almonds and seeds, and dried cranberries and raisins – so everyone can create their own pretty parfaits.
Check out a quick how-to on this breakfast charcuterie which is sure to have your guests asking for more!
Finish off your brunch with just the right dessert-check out this ACE® Chocolate Brioche Bread Pudding with Warm Vanilla Drizzle.
Easy Tips for an Easy Holiday Brunch Spread
Set up your table or buffet the night before and stack bowls and platters on the counter with sticky notes to identify which foods go where.
If you're opting for a buffet, use serving pieces with different heights and textures to create more character and add interest.
Instead of walking around refilling hot beverages, set up a coffee and tea station with all the fixings, so everyone can help themselves—and you can focus on relaxing catching up with your guests.
1https://www.businessinsider.com/charcuterie-millennial-social-media-phenomenon-2020-1