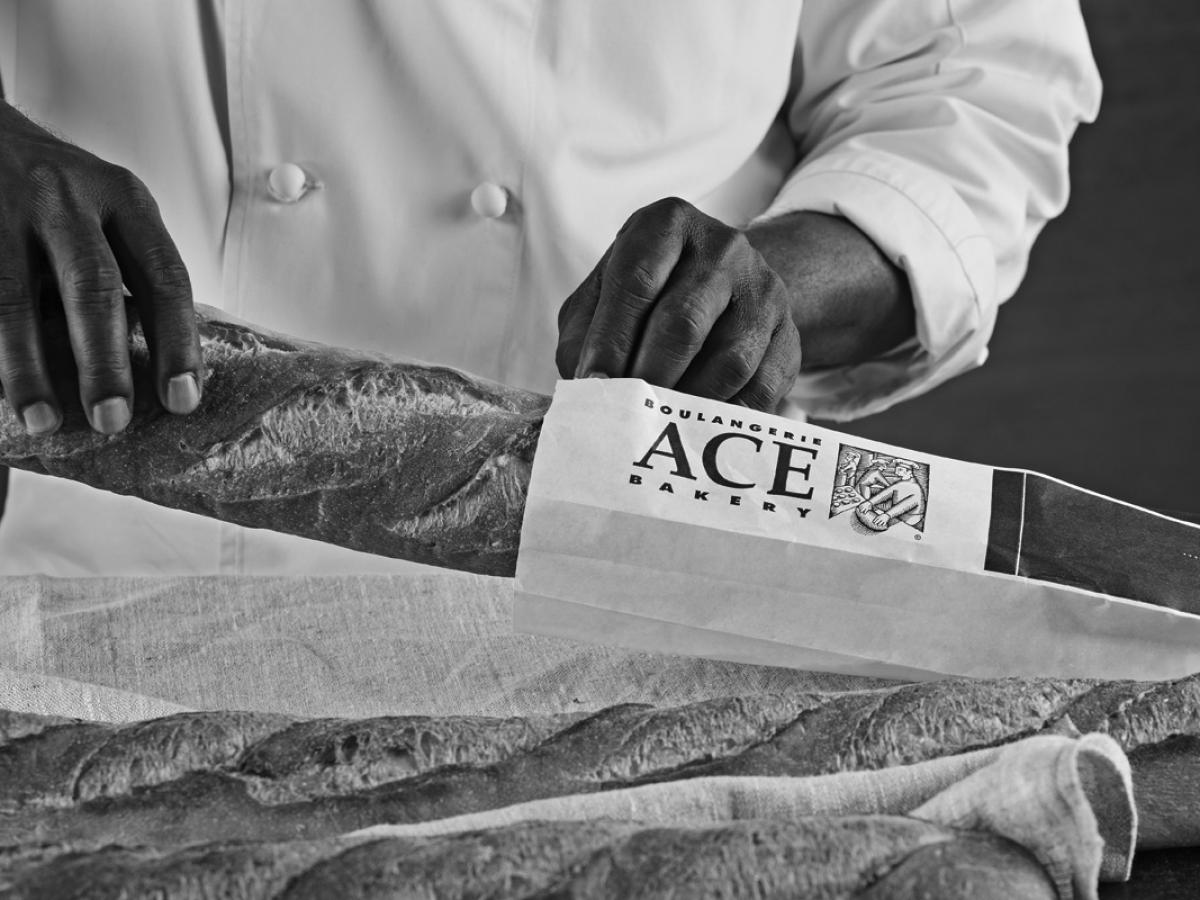 Getting More Out Of your Sourdough
Sourdough bread has been around for years but has just recently risen in popularity. You've probably heard everyone talking about it, but really, what is it? ACE Bakery® is here to answer all your sourdough questions from the whats, whys and hows that makes our artisanal Baguette, Sliced Miche and Pumpkin Seed sourdough breads and loaves unique.
SO…WHAT IS SOURDOUGH?
Simply put, sourdough is a slow-fermented bread that is naturally fermented with a Mother starter. According to our expert bakers, the earliest definite records come from Ancient Egypt. Researchers speculate that a mixture of flour meal and water was left longer than usual on a warm day and the yeasts that occur in natural contaminants of the flour caused it to ferment before baking.
Baker's yeast has not been around forever. Before baker's yeast, there were sourdough starters – a ferment. This fermented culture is also known as a 'starter' and relies on a mix of wild yeast, lactic and acidic bacteria – both of which are naturally present in flour – to leaven the dough.
Wild yeast is everywhere! From within flour, the air to even on fruit – but in small amounts. When you combine flour with water and allow nature to take its course, over time the wild yeast will multiple in the dough.
Alright so enough of the science behind what makes this bread so unique and delicious.  Onto how to actually make it on your own (if you're feeling adventurous).  Otherwise, add your favourite ACE Bakery® sourdough to your next shopping list and leave the work to our expert bakers!
SOURDOUGH STARTERS 101: HOW IT'S MADE
Want to learn how to create your own sourdough starter? Check out ACE Bakery® Master Baker tips to ensure your sourdough starter is a winner!
We've already talked about wild yeast but what exactly is happening when we 'let nature' take its course to form a starter? Simply put: a sourdough starter is a live culture made from flour and water that contains wild yeast and good bacteria[1]. This good bacteria, also known as lactobacillus[2], is naturally present in the flour and is also found in fermented foods like yogurt, pickles, cheese and even wine.
The sourdough starter process can take anywhere from 5 – 8 days and must be kept alive with regular feedings. Feeding your starter with flour and water keeps it happy and active. With regular feedings, the starter grows and bubbles up to give it bread rising power and also keep Wild Yeast active.
5 SOURDOUGH RECIPES FOR ANY MEAL OF THE DAY
Whether you decide to try to bake off a sourdough loaf at home or indulge in the variety of sourdough options with ACE® here are some easy recipes featuring different ways to enjoy your sourdough for any meal of the day!
SOURDOUGH FOR BREAKFAST
Enjoying a restaurant-style brunch on Sunday afternoon is easy with this super quick and easy recipe featuring the ACE Bakery® Sliced Sourdough Miche.  Pair this with a mimosa and head out onto the patio or the balcony and complete your brunch with just the right ambiance.
Sunny Side Up Fiesta Toasts
INGREDIENTS
2 slices of ACE Bakery® Sliced Sourdough Miche
1 ripe avocado, peeled, pit removed and thinly sliced
1 tbsp. oil
2 eggs
Pinch each salt and fresh cracked pepper
1/2 cup Pico de Gallo or salsa
2 tbsp pickled red onions
2 tbsp fresh chopped cilantro leaves
1/4 lime, cut into wedges
Check out the full recipe here.
If you're serving up a brunch buffet or simply want more variety on the table, here are some great toast ideas.  Try pairing your ACE Bakery® Sliced Sourdough Miche with options like smashed avocado, topped with vibrant sliced cherry tomatoes, or your favourite hummus topped with thinly sliced cucumbers.  Check out more ideas here.
SOURDOUGH FOR APPETIZERS OR SNACK
Hosting dinners and barbeques are one of the best parts of the summer however, you don't want to be stuck in the kitchen the whole time.  Pairing a sourdough baguette with just the right dip or spread elevates your apps while cutting down the time you have to spend preparing or cooking it.
Using the classic white baguette is something you're likely quite comfortable pairing with your go to meals or simply enjoying on its own.  If you're unsure of how to pair the distinct flavour of a sourdough baguette, this is a must try recipe!
This appetizer recipe is great for your next get together or as a hearty snack while relaxing poolside. This is also a great take-a-long to the next barbeque you're invited to.  In that case, pack it up unbaked and have the host pop the dip into the oven to bake off before serving.
Baked Kale, Artichoke and Ricotta Cheese Dip
INGREDIENTS
225g ricotta cheese or cream cheese (softened)
1/4 cup sour cream or Greek yogurt
1/4 cup parmesan cheese, shredded, divided
1/4 cup asiago cheese, shredded, divided
Salt and pepper to taste
1 lemon, zest and juice
Olive oil
2 cloves garlic, finely minced
6 leaves kale, washed, de-stemmed and roughly chopped
200ml ml jar marinated artichoke hearts, liquid drained and reserved, roughly chopped
Check out the full recipe here.
SOURDOUGH FOR DINNER
If you're looking for a fun way to serve up a light and easy dinner this Charcuterie Kabobs recipe is quick and easy option, leaving more time to enjoy the summer weather and less time in the kitchen after a long day of work.  You can shop for the exact ingredients you want in advance, or simply use what you have available in the refrigerator or pantry. This recipe also gives your family and friends the option to customize their kabobs with their favourite meats, cheeses, vegetables and antipastos available on the table combined with your ACE Bakery® Sourdough Baguette.  If you're planning for a meal with just a few people why not combine the Baked Kale, Artichoke and Ricotta Cheese Dip with these and get more out of your sourdough baguette!
Charcuterie Kabobs
Check out the full recipe here
 SOURDOUGH FOR DESSERT
This dark chocolate and brie grilled cheese puts a twist on a classic and pairs the sour taste of ACE Bakery® Sourdough Miche with the bitterness of dark chocolate and buttery flavour of brie.  While it could easily lend itself to an indulgent lunch time treat, this recipe is a great option featuring the flavour or sourdough for dessert.  Cut your sandwiches down to smaller sizes to serve up as easy to eat finger foods and serve with dessert drinks to complete your meal.
Decadent Dark Chocolate and Creamy Brie Grilled Cheese
INGREDIENTS
6-8 slices ACE Bakery® Sourdough Miche
175g wheel Brie cheese, sliced into ¼" slices
100g dark chocolate bar (70%), broken into squares
2 tbsp. butter (optional)
Pro Tip- Putting the wheel of brie in the freezer for 10 minutes to firm up makes it easier to slice thinly.
Learn how to make this decadent grilled cheese here.